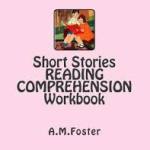 Welcome to «Short Stories READING COMPREHENSION Workbook» designed ans written by A.M. Foster of Kid´s Style Learning on Facebook.
Every workbook by A.M. Foster are for learners of ALL ages. Kid´s Style Learning on Facebook provides links to a lot of quality FREE educational online games, as well as links to many different learning resources available on the internet.
Under each picture in this user friendly workbook is the photographer/author/artist´s name in parentheses.
SPECIAL NOTE: this workbook can be used with people who can not read and/or write. Example: toddler, learning disabled, physically disabled, etc.
Read the story to the person if they can not read. If they can read but not write, write the answers for them. If you are using this book with a toddler or anyone who can not, for whatever reason, fully understand stories: then read the story to them and skip Days 1-4. Instead, replace each day with Day Activity.